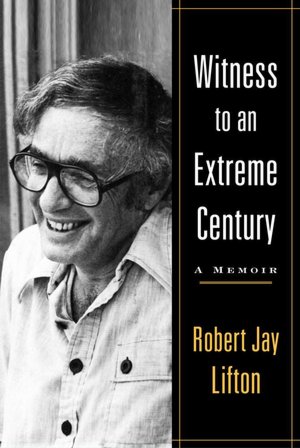 Robert Jay Lifton's "Witness to an
Extreme Century
It is always hard to choose only one book that made the biggest impression on me over the course of one year, but then the greater the difficulty of choice, the bigger the challenge. So, after long deliberations and questioning myself, I settled on Robert Jay Lifton's "Witness to an Extreme Century: A Memoir."
Dr Lifton is a psychoanalyst by training, but he quickly turned away from the traditional methods of psychoanalysis and combined psychology with history instead. The combination of these two disciplines made it possible for him to examine psychological phenomena such as traumatic experiences as well as ways and effects of brainwashing in the context of troubling historical events of the XXth century, such as the Chinese Cultural Revolution, the Hiroshima bombing, the Vietnam War, and the Nazi era. Lifton's more complex and open-minded approach to psychology enabled him to explore the undesirable, dark side of human nature: what makes humans vulnerable to cruelty toward others and how is the cruelty justified.
It took me six months to read the book because of its troubling content. Each time I read about the traumatic events like the Hiroshima bombing or the crimes of the Nazi doctors, I would, involuntarily, dream about them. I remember once I was reading the book on a plane and then dreamed about wandering the streets of Hiroshima looking for victims of the disaster. I awoke with the IPad in my lap, very relieved to hear the engine making little noise, cruising smoothly toward Korea and Victor playing with his computer right next to me. Japan, and its horrific past, would not be that far away from us once we reach Korea, I thought. Once we landed, the modern landscape was falsely reassuring: it provided a distance to a not-so-distant past and a stark contrast to the hurting city of Hiroshima from over half a century ago.
Dr Lifton, too, struggled with nightmares and fears when he was involved in any of his research projects, thereby becoming a more humane human being and a more sensitive and perceptive researcher in my eyes. In fact, this brighter side of humanity that he represents interwoven with stories of his close/supportive relationship with his wife and friends, make the book well worth reading inspire of the traumatic events it delves into.
Karo Caran, the Rainbow Poetess, is a poet and a non/fiction writer. Her novel, "Breaking the silence: A story in paintings" focuses on the censorship of art and gay relationships in the postwar, communist Poland. Her poetry-based memoir, "Life in a Footnotes" will be published this summer.
by